Home / Cartref
Read the reply from Mr. Robert Sully/director of CCC Education Dept- obtained through Nick Bourne's offce.
Want to know what's been happening recently ? Check the "In the Media" link in the menu.
Welcome / Croeso to Ysgol Pantycelyn Action Group's new website! Read our latest bulletins here.

First and foremost, let us set the record straight. There are no confirmed plans to close Ysgol Gyfun Pantycelyn.
However, we need your help to support our campaign to keep the Sixth Form and to say NO to any suggestion of closure.
Closing a school impacts the local enconomy and community. Click here to find out more. If you're trying to imagine what Llandovery would look like by 2020 if they did close our school then this poem pretty much sums it up.

Here, we will help you stay informed with the latest information on the preservation of our school - our concerns, the facts, the truth, not the rumours or gossip. If you have any questions do not hesitate to contact us. Your views and support are highly valued.

Do you want to let people know how you feel ? Well now you can by wearing the T-shirt or displaying a sticker on your car or house window.

-----------------
Right click this image and go to Save as to download the form. All instructions are on the form its self. Please help and pledge whatever possible. From all the people at YPAG have a very happy Christmas and keep safe.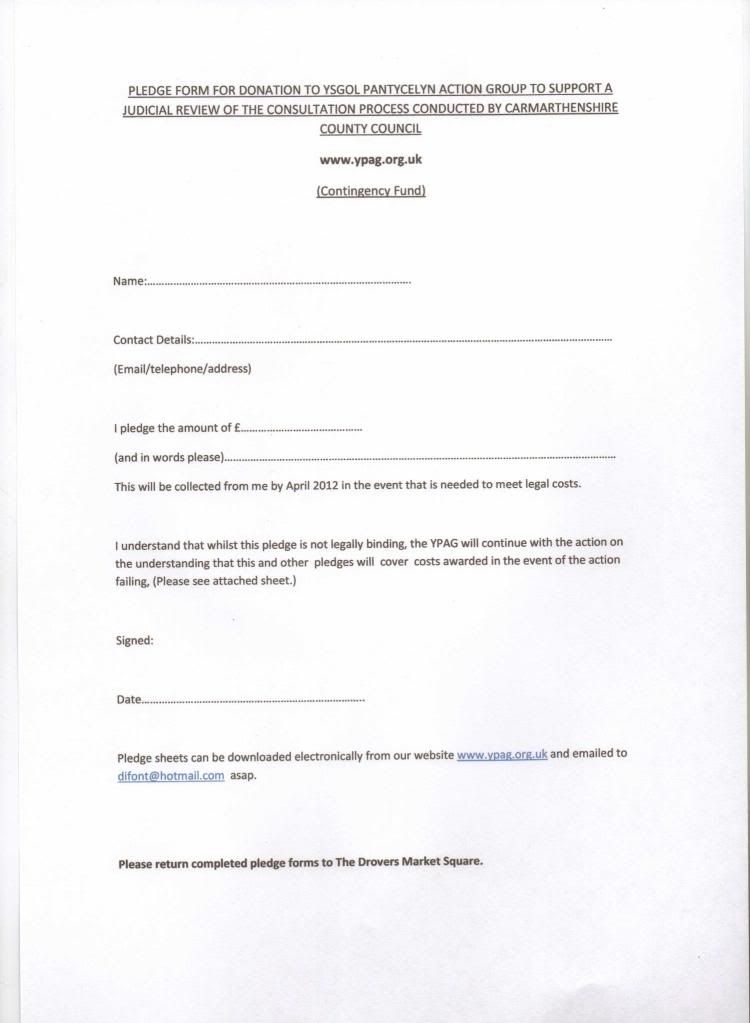 -------------------------------------------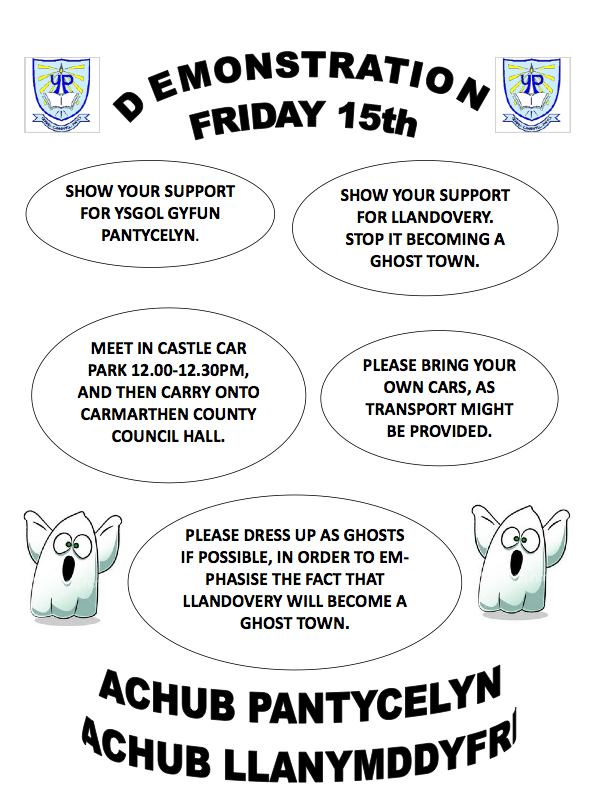 -------------------------------------------
ON A MORE POSITIVE NOTE: SUMMER FAIR @ YSGOL GYFUN PANTYCELYN!
This Thursday 7th July 2011 from 4.15 pm onwards. Come and enjoy in the fun, support our only Secondary School. If you ask yourself: "what is the point? They are going to close the school!" Well, all is certainly not LOST! So come and support the pupils & staff who have worked tiredless to give you a fun-filled pack later afternoon/evening! Thank you.
-------------------------------------------
A SAD, SAD DAY FOR LLANDOVERY........today at 10.00 am in Carmarthenshire County Hall, the Executive Board voted in favour of the consultation proposals. Although in the Consultation Document the date for this meeting states "September 2011", according to Mr. R. Sully "this is a printing error". We are now having to keep our eyes open and scan the local newspapers for their Statuatory Notice.
-------------------------------------------
IMPORTANT: CARMARTHENSHIRE COUNTY COUNCIL A LOSE CANNON? READ ON:
a meeting is taking place tomorrow 3rd July 2011, in which CCC are going to make a decision on Ysgol Gyfun Pantycelyn's future. This is NOT in line with the formal consultation procedure! Spread the word and be pro-active, please!
-------------------------------------------
New Pantycelyn Newsletter 30/03/2011!
A detailed article called "an interview with Mrs. Griffiths/Head, which gives a lovely insight on her upbringing, education and career. Then there is a brilliant review on "Oh what a lovely war" theatre performance held at the Trinity College in Carmarthen. A detailed Pantycelyn Eisteddford event, Music Notices as well as the introduction of the Pantycelyn School Radio. I must admit the two articles reflecting "Current Affairs" about the Japanese earthquake and Tsunami as well as the Libya conflict are written expertly. The School Council meetings, discussions and initiatives are mentioned as well as "What's on in Llandovery", together with a puzzle page, term and holiday dates and to finish the newsletter the 5x60 spring term Lunch Time and After School sporting activities are listed. A well written, interesting newsletter and I take my hat off for all the pupils involved in creating this booklet. I certainly look forward to the next one!
-------------------------------------------
All donations are welcome.

Stay informed - Join our our mailing list for our news letters

Thank you for you continued support - The team at Ysgol Pantycelyn Action Group.